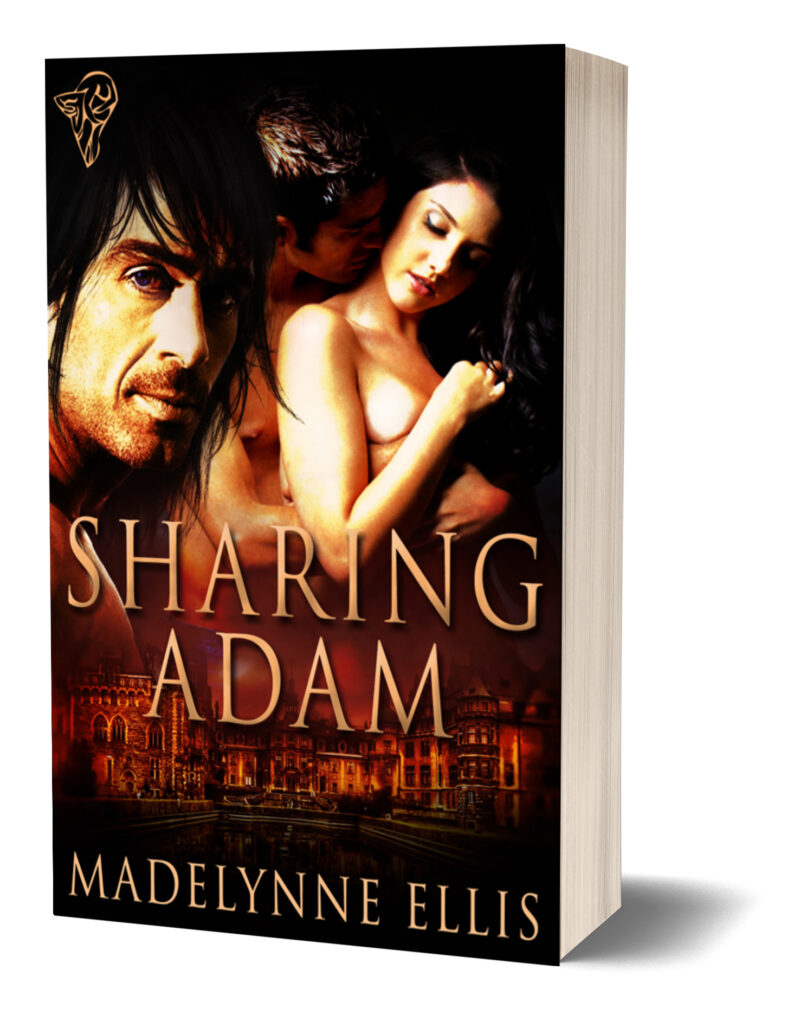 SHARING ADAM
Published by Totally Entwined
ISBN # 978-1-78184-012-2
Digital: 18th July 2012
This title is currently out of print. A new edition is coming soon.
Whoever thought infidelity could be this hot?
Becca Caine had no idea until she caught her husband enjoying an erotic clinch with another man.
When Becca Caine happens upon her husband, Elliot, enjoying an erotic clinch with a darkly attractive man named Adam, she's both hurt by his infidelity and left uncomfortably aroused.
However, the more she learns about her husband's homoerotic past encounters, the more desirous she becomes to see the two men make love.
Despite the risk to their marriage, Becca persuades Elliot to arrange such a tryst with Adam. Seeing them make out may well be the hottest thing she's ever seen, but what happens when Adam discovers her and invites her to join in?
Can Becca truly share her husband with another man? Is Elliot prepared to share his wife? Are either of them really prepared to share Adam?
Reader Advisory: This story also appears in All Together Now.
OTHER SINGLE TITLES
Excerpt:
Becca had once seen lightning strike. The bolt had hit the pavement right in front of her feet and dispersed into the earth, its passage unremarked upon save in the fraying of her nerves and the knowledge that she'd just escaped a life-altering event.
She'd never hoped to survive it, let alone expected to face the same situation twice. But then she'd never expected to find her husband pinned in the shadows by a raven-haired vixen.
Their friends' wedding had passed unremarkably, as most did after the vows were said and the drinks began to flow, until that moment when she left the ladies and glimpsed Elliot a few feet away, embracing somebody else. He wasn't even being particularly circumspect about it, given that a deep alcove lay to his rear and yet he stood under the light adjacent to the cloakroom door.
READ MORE
Becca braced herself behind a marble column, terrified of being seen, though she wasn't in the wrong. What had possessed him? She risked another glimpse.
As the breath squeezed from her lungs and culminated in a cough, Elliot made a half-hearted attempt to peel the pale hand off his arse.
"Not cool, dude," he chastised, giving Becca her first hint that she wasn't dealing with what she'd originally thought. "My wife-"
"Can't give you what I can give you." The deep rumbling purr confirmed it. Not a vixen, but a viper. One of the ushers-a man she recognised from the overly zealous exchange he'd shared with Elliot on the way into the reception. Maybe that ought to have set off alarm bells, but folks met up at weddings who hadn't seen one another in years. Emotions tended to run a little high, and Elliot's response, a firm pat on the back, hadn't given her cause for concern.
The guy released his grip on Elliot's iron-like buns, only to make a grab for the ridge of his cock beneath his trouser fly.
"Bet she doesn't even know how you swing. Probably be horrified to know how much a little rear-door action turns you on."
Damn, if that wasn't a truth that hurt more than this little tableaux. Not the last part-she knew Elliot well enough to know he enjoyed a little exploration in that region-but the not knowing that his interests ran to other men. That was a little hard to swallow.
"Who said it does, any more?" Elliot said. The slight bristle to his words and the stiffening of his shoulders made no impression upon his pursuer.
"Your cock dancing about behind your fly desperate to get out says so."
She didn't need to see the ridge of Elliot's erection to know that it was true. The guy's large hand spanned the whole length of Elliot's imprisoned cock, while the curve of his index finger and thumb provided an extra pinch of encouragement. A softness infused Elliot's gaze, coupled with a slackness of his jaw that spoke of intense delight.
How could they have been married five years without her knowing this sort of detail about him? Oh, if she thought hard on it, she supposed there'd been hints. Little things about the way Elliot was and how he behaved with other men, and the stray glances he cast. The way he always knew when she was looking at other men and could debate their merits, but had never seemed to admire women in the same way.
COLLAPSE