COMING SOON
Editions:
Audiobook

:

$ 25.82
Kindle

:

$ 4.99
Paperback

:

$ 7.99

ISBN:

978-0352346520

Pages:

286

A GENTLEMAN'S WAGER
Published by Virgin, Black Lace
First printed 23rd May 2003. Reprinted April 2008. Digital version 31st July 2012
ISBN # 978-0352341730ISBN # 978-0352341730
Second (Reimagined) Edition: Due 23rd May 2023
This title is currently out of print. A newly revised reimagined edition is coming soon. Pre-order now
'Explicit, romantic and flawlessly authored… A sizzling, refreshingly unconventional love triangle…passionate power struggles and absolutely searing bisexual sex.'  GOOD VIBRATIONS
When Miss Bella Rushdale sets out to win Viscount Marlinscar's hand, she doesn't expect her rival to be another man. Vaughan, the decadent Marquis of Pennerley has desired Lucerne for years, and now, on the wild Yorkshire Moors, intends to claim him.
A scandalous and passionate struggle results between the debauched aristocrat and an improper young lady. Ultimately, it will be up to Lucerne to choose the outcome — a decision that is bound to cause outrage and upset somebody's plans.
"Excessively naughty- Jane Austen and the Bronte sisters would have fainted dead away." Goodreads Reviewer.
"Intense, subtle, and heartfelt." Author Lisabet Sarai, for ERWA.
'Forbidden passion, risqué love, & smouldering desires – A GENTLEMAN'S WAGER had it all!' Romance Junkies
First Edition Covers: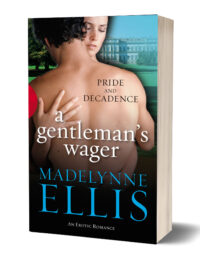 OTHER BOOKS IN THE SCANDALOUS SEDUCTIONS SERIES
Available on:
May 23, 2023
Publisher:
Incantatrix Press
Editors:
Cover Artists:
Genres: