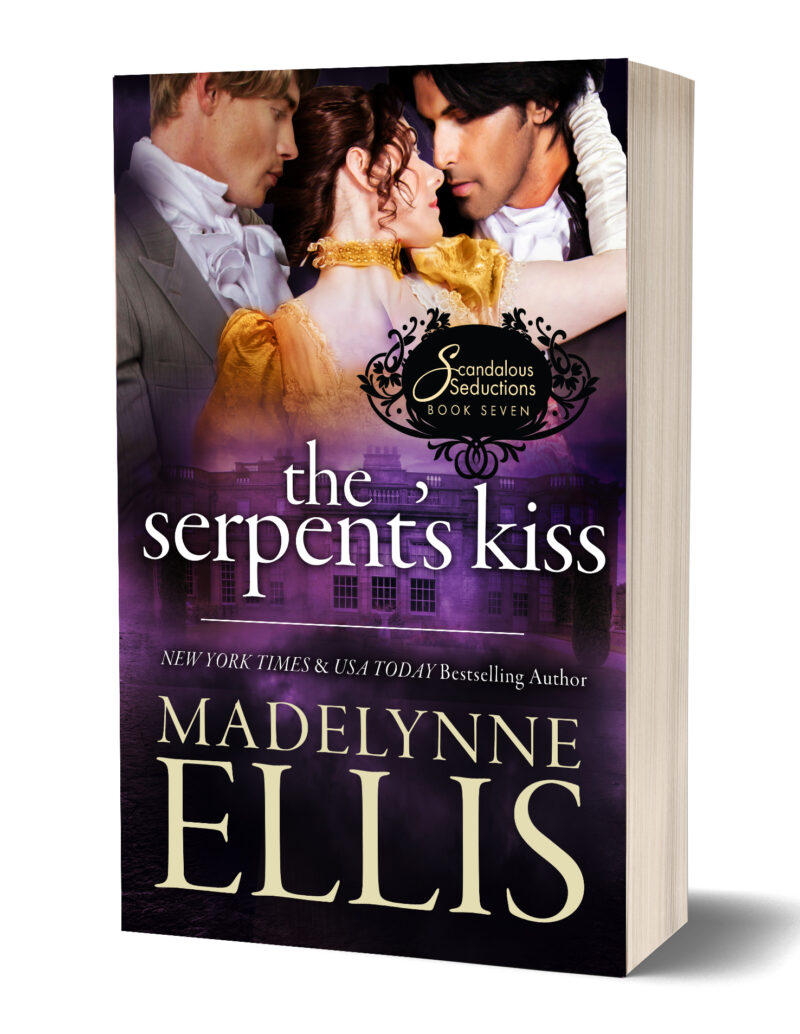 THE SERPENT'S KISS
Published by Incantatrix Press
ASIN: B07PFLR3L3
Published: 21st March 2019
A turbulent white-hot entanglement! Madelynne Ellis always gives us delicious book hangovers with her sizzling historicals. ~Ainsley Booth & Sadie Haller, USA Today Bestselling authors of Prime Minister.
She's the disgrace of the county…
Bella Rushdale has returned home still unwed having eloped with Viscount Marlinscar, and she's now engaged in a scandalous liaison with the Marquis of Pennerley. Remote Yorkshire society is outraged!
Something ought to be done.
Even the untrained observer can see there's something deliciously perplexing about the relationship between Bella and the two rascals responsible for her disgrace. As rumours of unnatural activities, forbidden pleasures and the inevitable repercussions abound, Bella vigorously resists her brother's attempts to strong-arm her into wedlock. But all too soon everything gets out of hand, putting Bella at risk of losing far more than her reputation. Can three people whose lives and hearts are so inexorably bound forge a lasting bond? Or is their love as ill-fated as society would have them believe?
The Serpent's Kiss is a Regency-set historical romance with a high heat including M/F, M/M and M/M/F interactions. Those of a timid or nervous disposition are advised against indulging.
★ ★ ★ ★ ★ "Well-developed complex characters that will grab your heart and not let go. It's definitely not a smooth ride, but it's beautiful and a #mustread!" OMG Reads.
★ ★ ★ ★ ★ "Hooked from beginning to end." Goodreads Reviewer.
OTHER BOOKS IN THE SCANDALOUS SEDUCTIONS SERIES