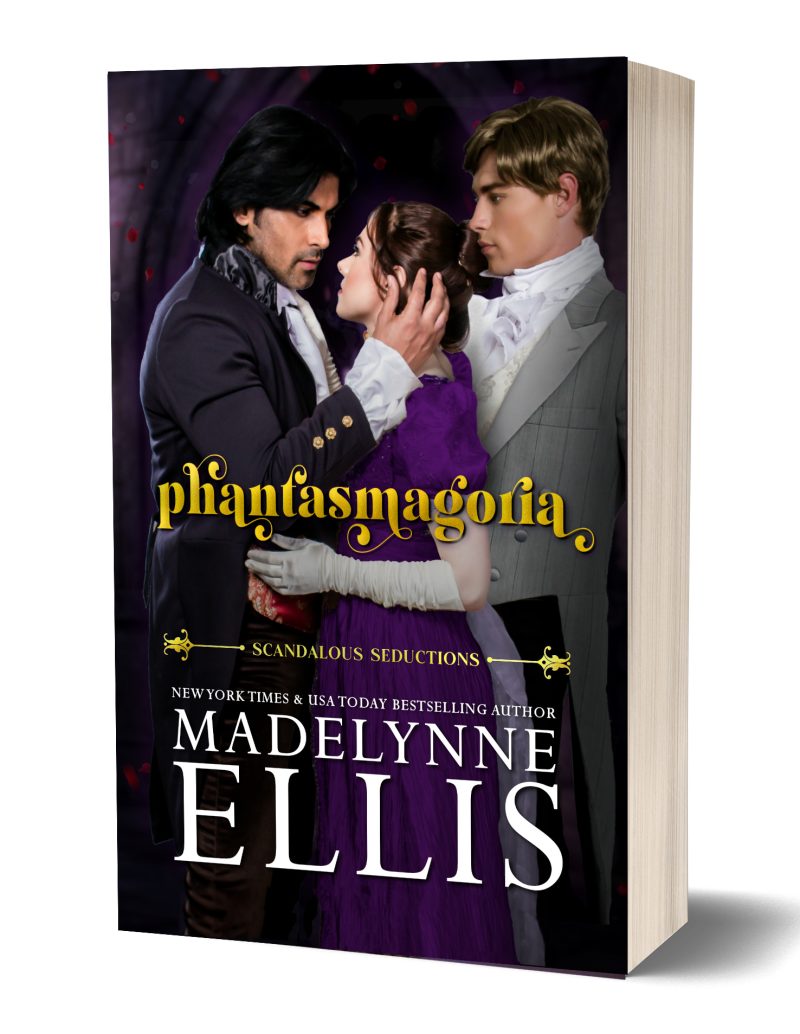 Editions:
Kindle

:

$ 5.99
Paperback

:

$ 12.99

ISBN:

978-0352341686

Pages:

301
Audiobook

:

$ 24.99

PHANTASMAGORIA
Originally published by Virgin, Black Lace, March 2008
ISBN #  0352341688
Current edition: due September 4th 2023
ISBN/ASIN #  9798854963497/B0C5YQ2WNW
https://books2read.com/phantasm
"Captivating, passionate, enthralling, and beguiling, Madelynne Ellis's turbulent tale of love, loss, passion, obsession, and emotion is simply erotic romance at its superb and unforgettable best!" Ecataromance.
1800—For three years, Miss Bella Rushdale has enjoyed a hedonistic and thoroughly scandalous ménage à trois with her bisexual lovers, Viscount Lucerne Marlinscar, and Vaughan, Marquis of Pennerley. All that changes when Vaughan vanishes without warning or explanation, leaving their tempestuous relationship in flux.
Initially thrilled to have Lucerne all to herself, things soon sour when Bella discovers Lucerne is not the man she believed him to be. Moreover, her soul longs for what they've lost.
Determined to reclaim Vaughan and set things to rights again, Bella pursues him to his family seat, a castle on the Welsh Border, where preparations are underway for a diabolical gothic celebration on All Hallows Eve—a phantasmagoria.
Dark, brooding, and burning with passion, Vaughan is far from thrilled by Bella's arrival, particularly when his true love remains absent. His volatility only increases when Lucerne arrives impenitent. Here in the wilds, amidst the shadows and phantoms, Bella and her lovers peel away the deceits and desires of past and future to expose the shocking heart of their volatile relationship and what they truly mean to one another.
Phantasmagoria is a dark, tempestuous, spicy Regency historical romance featuring three tortured souls who live for passion, heart-searing angst, obsession, cruelty, diabolical behaviour, and decadence. Expect ribald language, MMF interactions, and tangled relationships. Best keep a stiff tipple and the smelling salts to hand.
This is the second full-length novel in the Scandalous Seductions series, which is ideally intended to be read in order.
"Simply one of the best. If you enjoy erotic romance at its most passionate then you have to have phantasmagoria." Ashley Lister for ERWA
Fantastic dark romance that I won't soon forget!" 5-star Reviewer.
"Takes gothic romance to a new height." Romance Junkies
"Vibrant and electrifying, this well-written read sizzles." Coffee Times Romance
FIRST EDITION COVERS: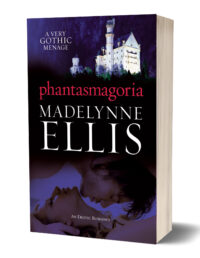 OTHER BOOKS IN THE SCANDALOUS SEDUCTIONS SERIES
Published:
September 4, 2023
Publisher:
Incantatrix Press
Editors:
Cover Artists:
Genres: