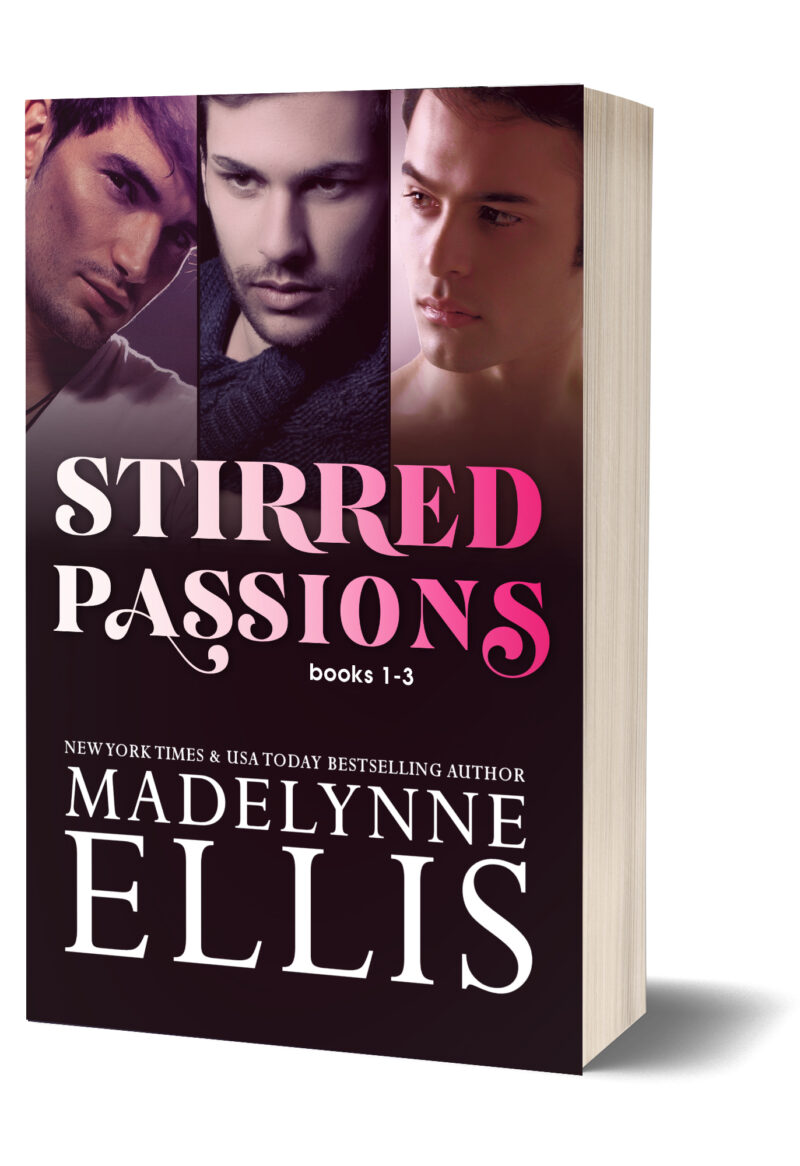 STIRRED PASSIONS books 1-3
Published by Incantatrix Press
ASIN: B096W23SWM
Published: 7th June 2021
Meet the Sunsetters, a group of British bisexual bad boy actors. They're not looking for love, but it's about to find them.
CHERRY BOMB
He was supposed to blow my world apart. I was not supposed to destroy his.
Chinchilla Studios has owned me since I was seven. At nineteen I want out. That means ensuring that teen drama the Caine Chronicles isn't renewed for another season. Enter Dare Wilde, a hot-as-hell British A-list bad boy, perfect for the role of my fake boyfriend.
Only, within ten minutes of meeting he's seared my soul with his kisses and nixed fake. When our negotiating resumes at a red carpet event, our undeniable chemistry lands us on the set of a high-octane action blockbuster with a strict morality clause.
Like I was ever going to be able to keep my hands off him.
Like bad boys with secrets play by the rules.
Like the tears, typecasting, and betrayal aren't already scripted...
BLACK VELVET
Three near strangers, but only one bed.
Two feet of freshly fallen snow.
One obvious way to stay warm.
Determined to rebound my way out of a broken heart after my best friend marries the girl of his dreams, I resort to an age old method of distraction. Go out. Get drunk. Get laid. Which is how I end up charming my way into the pants of my straight—questioning?—soon to be new co-star, Jasper Frost.
Holed up in a secluded one-bed cottage for the purposes of learning our lines, things are looking cosy, until she shows up—his dream girlfriend—in our bath-tub and threatens everything.
And then we get snowed in.
My best friend just hooked up with the girl of his dreams. To say I'm devastated is an understatement. But it's nothing a nice rebound relationship can't fix. Go out. Get drunk. Get laid. Wake up fixed. At least that's the story I spin myself. And how I wind up seducing my straight—questioning—soon to be new co-star. It's all going swimmingly, until she shows up. His very wet dream. In the bath-tub of our country cottage. And then we get snowed in.
SOUL KISS
Love is love... No labels necessary.
Dylan Drake is 100% gay.
He's been confident of that his whole life.
Until her…
Kira Carter-Wells shouldn't turn him on.
She shouldn't make his pulse race.
But his new bodyguard does precisely that.
And there's no escaping her if he wants to stay safe from the stalker threatening his life.
Stirred Passions Collection (Books 1-3)